Services
The Divorce Application
The end of your relationship can impact so many areas of your life. This page aims to support you as you plan your next step.  
In many cases, you may wish to file for a divorce yourself. If you don't have time or would like someone to take care of the paperwork for you, we can help. It doesn't have to be a battle and using a solicitor doesn't mean you have to go court.
Browse our services below, or call our team for more information on 012747 727373. We offer a free 15 minute consultation if you have a quick question – we support clients anywhere in England & Wales. 
Divorce Strategy Session
Clients find this 60 minute session a helpful way to get detailed legal advice about their options, in particular about parenting or dividing finances.
These sessions are designed to help you plan your next steps and explore your options. We find that reaching an agreement early on can save you time and money in the end.
If you would us to review any documents, let our office know in advance. 
Start Your Divorce Petition
You need to apply to court to legally end your marriage. Our Managed Divorce package is £750 (+VAT). We'll handle everything by phone, online or in person.
Reply To A Divorce Petition
If you've received a divorce application (Forms D8 and D10) from your husband or wife, you have 8 days to reply. We can help you consider your options.
Can I Apply For a divorce?
In order to file for a divorce in England & Wales, you must meet all of the below requirements:
you were married for more than 12 months 

your relationship has permanently broken down (

citing one of the following reasons:

Adultery, Unreasonable Behaviour, Desertion, 2 Years of Separation (and both agree to the divorce in writing) 5 Years of Separation (with or without agreement)

the marriage is legally recognised in the UK (in order to be legally recognised you must follow the correct process in the country where you got married). 

the UK is your permanent home, or the permanent home of your husband or wife
What Documents do I need?
You will need a copy of your marriage certificate and your husband or wife's full name and address. If you do not have this information, contact our office for advice – 01274 727373.
We Have Children
If you and your spouse have children or joint finances (e.g. house or mortgage), you can still choose this option. We divide the process in two steps for you.
We will start the process for your divorce application – submitting the application to the court.
Separately, we can guide you on next steps, options and costs in relation to your children or dividing finances, such as a Clean Break Order or a Consent Order.
It is important to remember that whilst a Decree Absolute legally ends your marriage, it does not end your financial commitments to your former spouse. At every stage, it is your decision on how to proceed.
What are the benefits of a managed divorce?
If You Both Agree To The Divorce
Our Fixed Fee Managed Divorce service is a great option if you and your spouse both agree to get a divorce – particularly if you don't have any children or shared finances. We can submit your application within 48 hours of having your paperwork.
If You're Not Speaking To Each Other
If you and your spouse are not talking to each other, you can still choose this option. We divide the process in two steps for you. We can start the process for your divorce application – submitting the application to the court. If you then need advice on additional services such as contested matters, children or finances, we can guide you on next steps, options and additional costs. At every stage, it is your decision on how to proceed.
Our fixed fee Managed Divorce service is £750 +VAT
solicitor consultation

we check your documents, prepare the divorce application and file everything with the court;

we monitor the court application, check on service and handle all correspondence until you obtain your Decree Absolute (the document which legally ends your marriage)

payment plans are available

note: this package is for undefended applications only; you will also need to pay court fees of £593
Replying to a divorce - What You Need to know
8 Days
You must respond within 8 days of getting the notice of proceedings. If you do not reply in time, this will not necessarily stop the divorce.
The court may decide that you received the application and proceed with the divorce. Alternatively, the court may deliver the papers personally to you (at a cost to you).
Three Questions
The divorce paperwork will ask several questions – the three key questions are: 
whether you agree with the divorce 

whether you intend to contest the divorce 

whether you will pay costs (if your ex-spouse claimed them); 
If You Agree with the divorce
If you agree with the reasons for the divorce, you will complete your reply online or by post (this depends on how your spouse applied for a divorce and whether you have a solicitor).
Once your response is submitted, the divorce application will go ahead – to a decree nisi. A decree nisi is a document that says that the court does not see any reason why you cannot divorce. Note you will still be married after the decree nisi has been granted. You will then need to wait 43 days (6 weeks and 1 day) before you can apply for a 'decree absolute' to end the marriage.
If You Disagree with the divorce
There are a number of reasons why you may wish to defend the divorce petition, or file your own application.
You should think carefully about your reasons. Disagreeing with the divorce means there will be a court hearing – and more costs.
You may wish to seek legal advice at this point. A law firm can guide you on your options, the likelihood of success and also the associated costs. We offer a free 15 minute consultation – call our team on 01274 727373.
Do I Need a Solicitor?
It's up to you.  You can prepare the divorce application yourself, or instruct a law firm. If you have children or joint assets, you may wish to obtain legal advice.
In order to file for a divorce you need to complete an application form (Form D8) and send it to the court. The person who files the application is known as the 'Petitioner.'
Our Managed Divorce service is £750 (+VAT). We can file your divorce within 48 hoursof instruction, if we have your documents. As the person who starts the application process, you will also need to pay a £593 court application fee.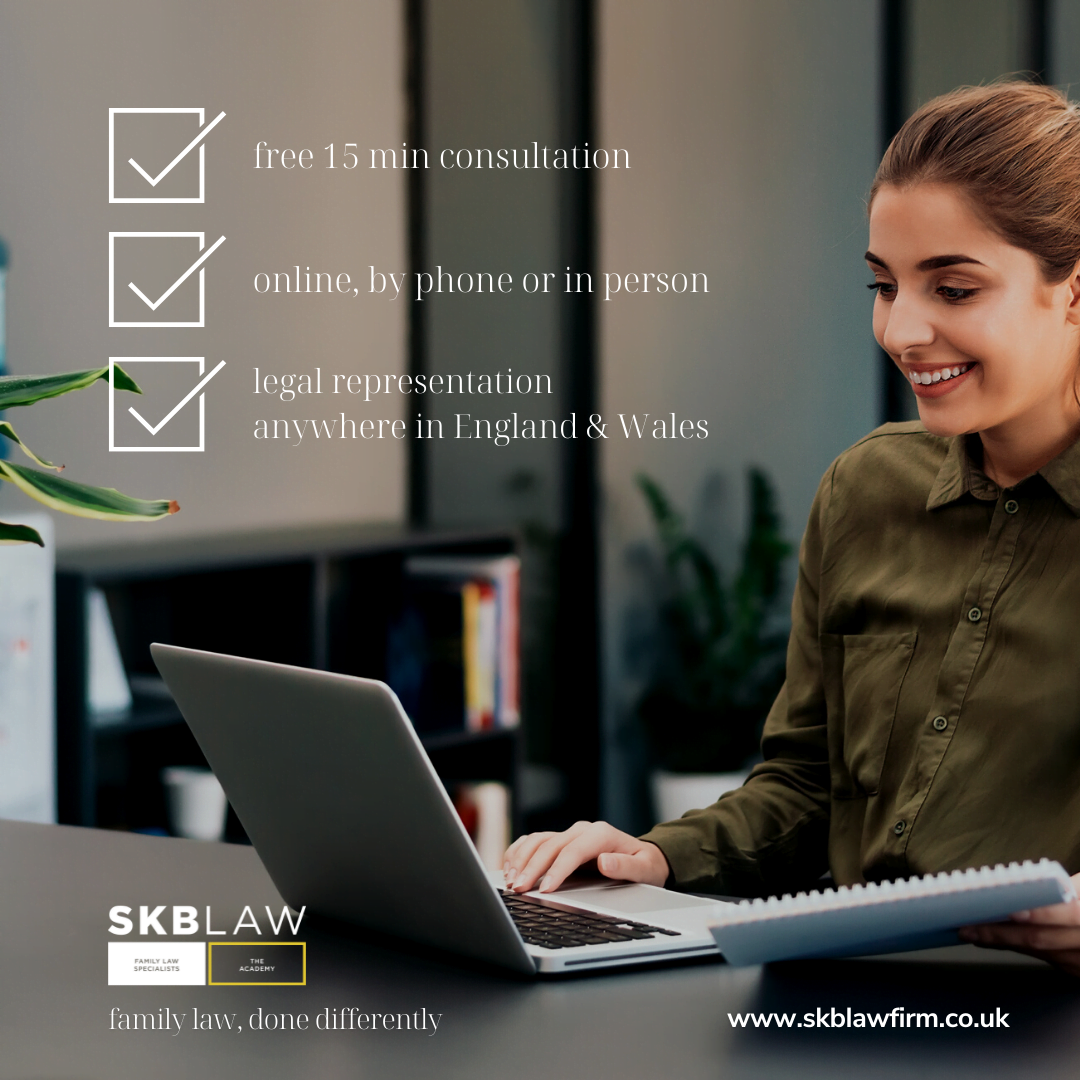 Advice when you need it & where you need it
We offer advice and support anywhere in England & Wales. We know many of our clients prefer the privacy and discretion of online advice, so we invest in the latest digital software and encryption.
Get advice by phone, video or in-person at our offices in London and Bradford.  When you use SKB Law, you'll access digital forms, online payment methods, personalised care  and court representation anywhere in England or Wales.
We work with your budget
We think you'll find our pricing is fair, transparent and competitive. Many of our legal packages are fixed fees (the price you pay is set in advance). If your case is more complicated or you have a set budget, we may suggest our hourly rate services.
Our fees are in line with Government guidance. And you have peace of mind that our work is regulated by the Solicitors Regulation Authority.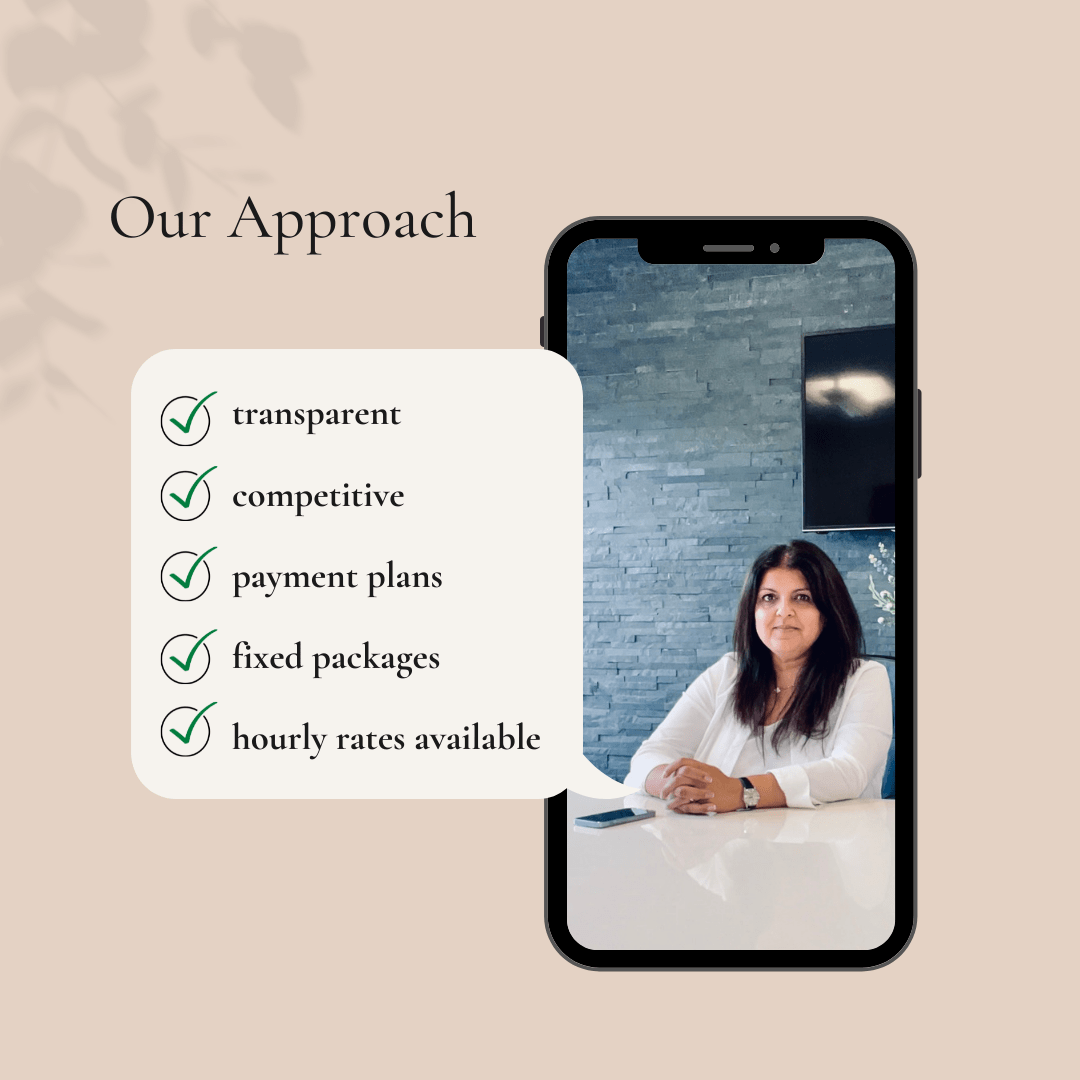 Even though I was based in London, SKB Law were extremely sensitive, vigilant and thorough with my divorce proceedings. I had a devious and tricky ex, so it was incredibly stressful. SKB were very understanding and supportive as I was very nervous and emotional, this made me feel very supported and empowered. I'm super happy with my result and will certainly be returning to them for any future advice and have already recommended them to others.
My first experiance with SKB law was very good. I was greeted by very Polite, curteous young woman by the name of Mahnoor, she listened very calmly to my whole situation and advised me accordingly.  It was a totally diffrent experiance to what i had earlier that day with a Birmingham based Law firm earlier that day but Mahnoor service would definately recommend and if all staff members at SKB law are the same its a winning firm. Mahnoor was not the pushy Solicitor telling to to book into a consultation which would cost you hundreds of pounds but handled things more ethnically so well done Mahnoor ambassador for SKB law.
Positive: Professionalism, Responsiveness, Value
SKB law are very professional and efficient, I have used them on a few occasions, on family and immigration related matters.I feel the attention to detail is on point, together with the level of service and communication received. I have never been disappointed and would definitely recommend them to friends and family. Keep up the good work.