SKB Law celebrates qualification of solicitor
This week we're celebrating the qualification of our solicitor, Anisa Aziz, through our trainee solicitor programme.
Anisa joined the firm as a trainee solicitor in 2019. She obtained her LLB (Hons) Law Degree from the University of Leeds.  During her training, Anisa gained experience in all areas of family law, establishing her expertise in financial assets.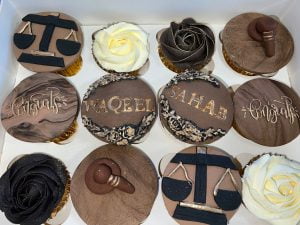 While enjoying some amazing cupcakes, Anisa said: "it's been such a pleasure to complete the trainee solicitor programme with SKB Law.  I'm fortunate enough to have been exposed to such a high standard of work from the very start of my career, particularly under Sarah's supervision. The level of trust and responsibility allowed me to gain more of an insight into the field, increased my level of competency and boosted my confidence."
The firm's founder Sarah Khan-Bashir MBE praised Anisa's hard work, saying "I couldn't be happier to welcome Anisa into a permanent position as a fully-qualified solicitor.  Over the last year, the legal sector has gone through unprecedented changes in response to the pandemic. Anisa's leaned into the changes with her characteristic warmth and energy, whilst also welcoming and supporting new team members. I'm proud of everything she's achieved so far and look forward to seeing her grow further and be part of the firm's continuing growth".
The SKB Law Academy
SKB Law's training programme is part of the firm's SKB Law Academy and our commitment to developing the next generation of lawyers. Trainees are exposed to all areas of the practice and much more.  If you're interested in progressing your legal career with SKB Law – whether that's as a paralegal, your SQE or as a solicitor, please email us.
About SKB Law
SKB Law is an award-winning family law firm supporting people across England & Wales. We specialise in divorce strategy, fair settlements and practical results – saving you time, energy and money.
If you're interested in learning more, we'd love you to listen to our new podcast Family Matters on Apple Podcasts. Sarah talks to former clients and guests about divorce, separation and everything that goes along with it.